Stormwater runoff & PFAS - installation of sampling equipment at the Berlin case study site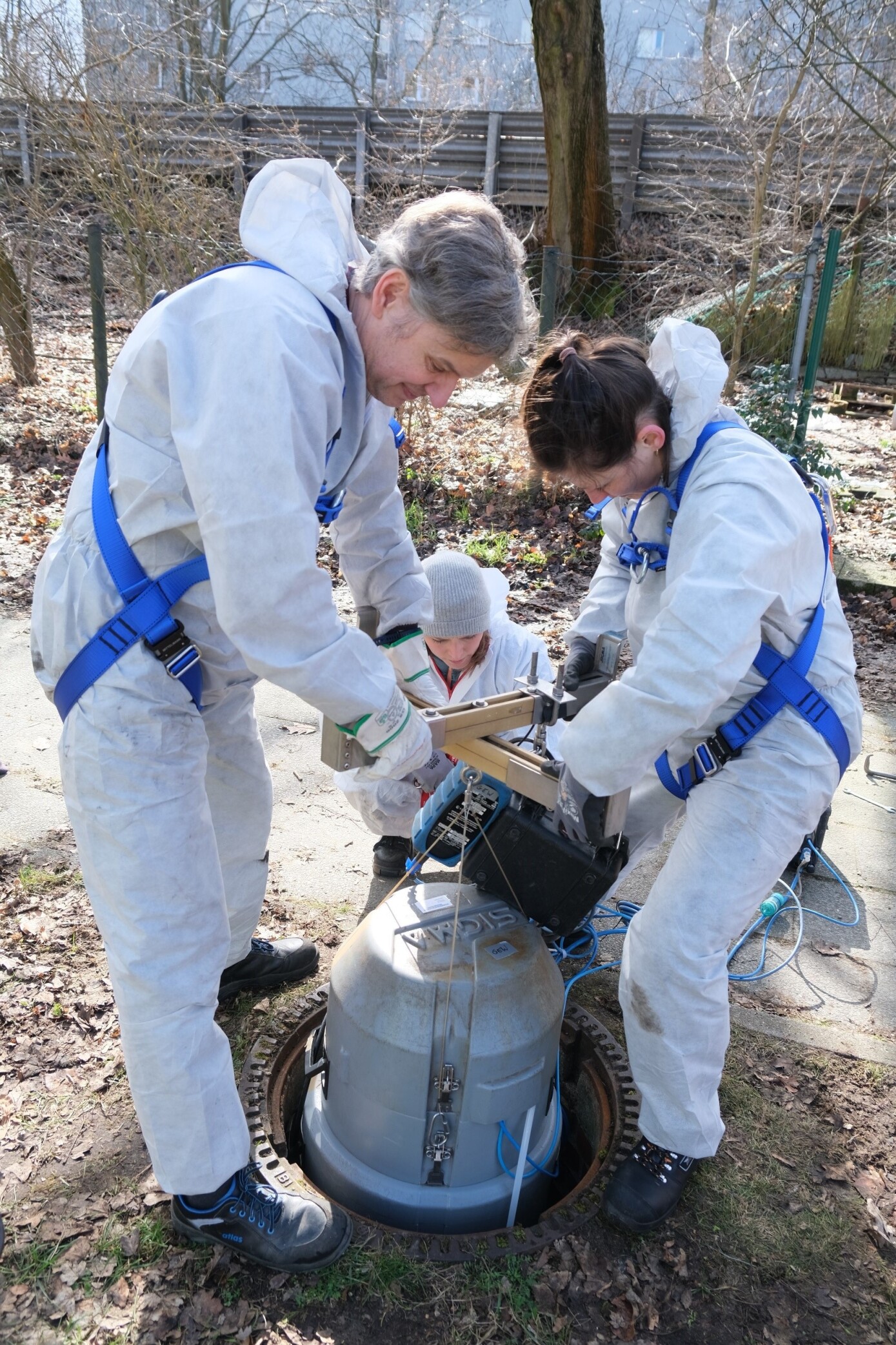 A team from KWB and BWB during the ongoing monitoring with the autosampler.There is no need to descend into the manhole.
@KWB
To prepare for the PFAS and iPMT compound monitoring in stormwater runoff starting in spring 2023, a team from Kompetenzzentrum Wasser Berlin (KWB) and Berliner Wasserbetriebe (BWB) recently installed the sampling and measuring devices on site in Berlin.
Two stormwater sewers in the Berlin district of Reinickendorf were selected for monitoring. They are located in an industrial and commercial area which includes companies potentially emitting iPMTs. The stormwater runoff of this area is collected in separate storm sewers and discharged into a small lake (Flughafensee).
The first measuring location is a manhole with a large catchment area (Borsigwalde industrial estate) which was investigated about 9 years ago in an earlier research project (OgRe) which focused on micropollutants in stormwater runoff. In OgRe, two PFAS compounds (PFOS and PFOA) were detected, and PFOA was found at elevated concentrations. Now in PROMISCES, a much wider range of more than 30 PFAS compounds and also other iPMTs will be analyzed. The detection limits of the BWB laboratory are significantly lower in 2023, so it's possible to detect a wider range of PFAS and other iPMTs can be quantified in the low ng/L range.
Due to the size of the sewer (two meters, comfortable standing height), the sampling hose, flow rate and water level and flow meter (POA, Nivus) were easily installed at the bottom of the sewer. The sampling hose was fed through a supportive pipe coming from the side to the middle of the sewer and was fixed 7 cm above the sewer bottom to avoid excessive sampling of deposited sediments. The autosampler (Sigma SD 900) hangs under the manhole cover on a wooden support and can therefore be accessed from above during the ongoing monitoring without any need to descend into the manhole.
The second stormwater sewer has a much smaller catchment area. However, several companies relevant for PROMISCES, including two pharmaceutical companies, are located here. Due to the much smaller sewer height of just 70 cm, the Nivus probe was installed using a clamp ring and without any need for drilling. The sampling hose hangs vertically from the sewer ceiling and the auto sampler hangs under the manhole cover, just like with the first manhole.
So now that everything's ready for stormwater monitoring, we just have to keep our fingers crossed that the rain will come soon.